Welcome to the Dragon Adventures Wiki!
Looking to become a Journalist, Writer or a Moderator? Click here!
We are a collaborative wiki for the Roblox game, Dragon Adventures. We aim to provide as much information about the game, and will make excellent efforts to make this wiki as resourceful and informative, as possible, but there is no guarantee that all information will be entirely accurate at all times.
If you wish to help out please be sure to read and follow our rules and guidelines before creating content.
The wiki has been edited 821,154 times since its creation.
About the Game
🐉 Hatch eggs and raise your dragons to become powerful beasts in a variety of immersive worlds!
🐲 Find a variety of dragon species
🗺️ Travel to new worlds for rare resources
🏠 Design your base
🥚 Raise and protect dragons
🔥 Defeat enemies and other users
💨 Fly high with your dragons
🌼 Grow crops
Play!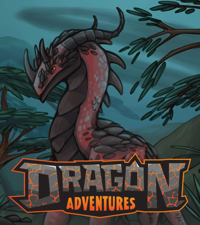 The DA Wiki Staff
Founder: Tonighty (RETIRED)
Bureaucrats: AshtonAesthetics, GhostBrimstone.
Administrators: FireIceSale, WelcomeToChilisss, Eternitydeath, Xiwa23.
Moderators: SukairaMokuren, Scoldi (Inactive), LemonTartKitty, Mercxdes, Echoling, Lithiams, Rhyerro.
Writers (Content Moderators): MRLABB, Ok im good, 0BirdMasta0, SingerSky, Hyperoartia.
Developers: Domeboybeene, Kipp4hRBLX, Joylessly.